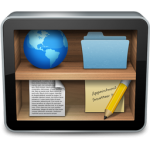 Finally DockShelf 1.3 for Yosemite is released. This is a rather large update and features all new themes for Yosemite plus performance improvements.
The Mac App Store version will be submitted shortly and hopefully accepted in the next couple weeks.
Please visit the newly designed web page at thealchemistguild.com/dockshelf for information and an important notice for users upgrading from older versions.