The first iCloudStatus update has been released with some important new features which users have been waiting for since the initial release.
1) You can now rescan the iCloud directory for transfers currently in progress (see the "Rescan" button in the preferences tab).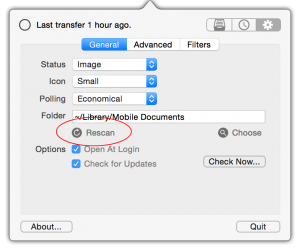 Please note that scanning is slow so if you choose a directory that contains thousands of files this could take minutes.  If possible try to choose a folder inside the iCloud Drive directory which contains the fewest amount of files you want t start tracking status for.
2) There is now a welcome screen that lets you choose to track only iCloud Drive or all iCloud documents, like if you save a file in TextEdit, Numbers, Pages etc… to iCloud you will see status.
3) As an optional preference iCloudStatus now tracks the status of incoming downloads. For example, if you upload a file on an iOS device status will be shown on your Mac(s).
If you're not interested in this feature feel free to turn it off in the preferences because it will use more CPU when processing transfers and add a delay to notifications when transfers are complete.
Other minor improvements and bug fixes:
Preference to only show notifications if transfer time was over a certain limit.
Exclude patterns (regular expressions) for filtering files you don't want to see tracked.
Custom sound preference for notifications.
Unicode characters are properly written in the transfer log.